Made with: Organic Sprouted Fermented Pea Protein*, Organic Sprouted Brown Rice Protein*, Natural Vanilla Flavour, Organic Ceylon Cinnamon Powder*, Organic Acacia Fibre*, Organic Sprout Blend (Organic Amaranth Sprout, Organic Quinoa Sprout, Organic Millet Sprout, Organic Buckwheat Sprout, Organic Chick Pea Sprout, Organic Lentil Sprout, Organic Adzuki Sprout,
Organic Alfalfa Sprout, Organic Flax Sprout, Organic Sunflower Sprout, Organic Pumpkin Sprout, Organic Chia Sprout, Organic Sesame Sprout)*, Digestive Enzyme (Amylase, Protease, Lipase, Cellulase, Lactase) Blend, Monk Fruit Extract Powder. *Certified Organic ingredients
Made without: No GMO, eggs, nuts, gluten, dairy, synthetic vitamins, artificial ingredients, colours, preservatives or additives.
Mix 1 scoop (31g) to 300ml of water, or in smoothies, once daily.
Ideal to add to smoothies with all the other VITA-SOL Ingestible Skin Support powders.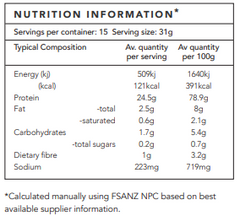 COMPLETE YOUR ROUTINE
At VITA-SOL we believe in an integrative approach to skin care. Nourishing the body with nutrient dense indredients to assist cell integrity, hydration and antioxidant support is the foundation to a healthy gut and radiant skin.
VITA-SOL ORGANIC PLANT PROTEIN
Certified Organic (ACO)
VITA-SOL ORGANIC PLANT PROTEIN is third party certified organic (ACO) and offers superior quality plant protein and digestive support making it the perfect choice for those looking for a quality plant based alternative.
Digestion and Gut Health Support
For ease of digestion and gut health support, our pea protein has been sprouted and fermented making it easier to digest than regular pea protein. The addition of our VITA-SOL sprout blend, cinnamon and acacia fibre adds additional nutrients and fibre to further support a healthy gut and maintain healthy blood glucose levels.
Expertly Curated Blend
An expertly curated blend of organic sprouted, fermented pea and brown rice protein to offer a complete amino acid profile. The blend of rice and pea protein offers a complete protein source which is often lacking in regular plant protein powders.
Benefits
Ideal to add to smoothies with all the other VITA-SOL INGSTIBLE SKIN SUPPORT powders
24.5g of complete protein per serve | 31g serving scoop included
With digestive enzymes and fibre for digestive health support + cinnamon and fibre to support blood sugar balance inflammation
Vanilla flavour
Gluten and dairy free hydration