Made with: Organic Pea Protein*, Natural Sea Mineral Complex powder (Aquamin™), Organic Lucuma powder*, Organic Turmeric powder*, Organic Ceylon Cinnamon powder*, Organic Masala Chai blend (Cinnamon, Cardamom, Clove, Star anise, Liquorice, Nutmeg, Black Pepper)*, Organic Sprout blend (Organic Amaranth Sprout, Organic Quinoa Sprout, Organic Millet Sprout, Organic Buckwheat Sprout, Organic Chick Pea Sprout, Organic Lentil Sprout, Organic Adzuki Sprout, Organic Alfalfa Sprout, Organic Flax Sprout, Organic Sunflower Sprout, Organic Pumpkin Sprout, Organic Chia Sprout, Organic Sesame Sprout)*, Organic Chia Seeds*, Natural Vanilla flavour, Organic Acerola powder*, Organic Ginger powder*, Organic Mushroom Vitamin D2 powder*, Organic Stevia extract powder*. 
*certified organic ingredients
Made without: NO GMO, eggs, nuts, gluten, dairy, synthetic vitamins, artificial ingredients, flavours, colours or additives.
Mix two level teaspoons into water, milk or smoothies or add it to your oats or plain natural yoghurt for an added boost. Always use a dry spoon.
Enjoy daily.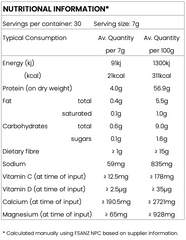 image
COMPLETE YOUR ROUTINE
At VITA-SOL we believe in an integrative approach to skin care. Nourishing the body with nutrient dense indredients to assist cell integrity, hydration and antioxidant support is the foundation to a healthy gut and radiant skin.
ACTIVE INGREDIENTS
Organic Sprout Blend
A comprehensive and nutritionally dense organic blend of 13 sprouts to support healthy digestion.
Vitamin C
Naturally sourced from Acerola Cherry to contribute to cell protection from free radical damage.
Calcium
Naturally sourced to support healthy skin, shiny hair and strong nails.
Organic Pea Protein
A vegan source of protein and iron to support nail and hair strength and growth.
HOW TO TAKE VITA SOL
We've made sure that incorporating VITA-SOL into your daily routine couldn't be easier because consistent daily use is key.
TAKING ONE VITA-SOL POWDER
Mix two level teaspoons with 200mL of water, smoothie, milk or yoghurt.
TAKING MULTIPLE VITA-SOL POWDERS
Mix one heaped teaspoon of each powder with 200mL of water or smoothie.