Made with: 100% hydrolysed pure marine collagen peptides from wild caught fish found in the crystal clear water of the North Atlantic.
Made without: No GMO, eggs, nuts, gluten, dairy, synthetic vitamins, artificial ingredients, flavours, colours, preservatives, additives, maltodextrin or farmed fish.
Allergens: Contains fish.
Mix two teaspoons with hot or cold liquid including juice, smoothies, tea or coffee. VITA-SOL Collagen Boost can be mixed with any of our other wholefood powders. For best results we recommend taking 2 heaped teaspoons for the first three months then 2 flat teaspoons thereafter.
Enjoy daily.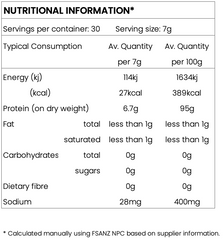 COMPLETE YOUR ROUTINE
At VITA-SOL we believe in an integrative approach to skin care. Nourishing the body with nutrient dense indredients to assist cell integrity, hydration and antioxidant support is the foundation to a healthy gut and radiant skin.
ACTIVE INGREDIENTS
Pure Collagen Peptides
Collagen Boost is made from the purest marine collagen available and formulated without any synthetics or filler ingredients.
Heat Stable
Vita-sol marine collagen remains effective when mixed with hot or cold liquids making it easy to enjoy every day.
Bioavailable
Our collagen peptides are fully hydrolysed making them small in molecular weight and easily absorbed.
Sustainably Sourced
We use wild caught fish sourced from the pristine waters of the North Atlantic under sustainable practices.
HOW TO TAKE COLLAGEN BOOST
Taking Collagen Boost daily is the best way to ensure you see real results. Our 100% marine collagen is flavourless and can easily be mixed into coffee, tea, juice or smoothies.
NEW TO COLLAGEN SUPPLMENTATION?
Boost your new routine by taking two heaped teaspoons of Collagen Boost daily for the first 12 weeks. 
YOUR MAINTENANCE ROUTINE
Take two level teaspoons of Collagen Boost daily.